Enjoy a great way to see beautiful places around Cyprus.  We offer a great way to do just that. We work with many clients that want to see the ocean and the coastline of Cyprus.  While spending your holiday in Paphos you really do need to take a minute and get away from land and visit our beautiful ocean waters.  Our professional staff is trained about the waters and area as well as the boats and proper entertainment. We offer 3 different cruises to choose from for your convenience.  Cruising Blue Lagoon with a drink in hand has never been easier. Latchi Cruises are a great way to get around and see more than you ever could on land. They are fun and affordable as well.
Blue Lagoon
We will stop and allow you to swim and enjoy the Blue Lagoon area.  There are wines and fruit offered free of charge by our friendly staff and we also have cocktails, ice cream, coffee, snacks, and soft drinks as well.  If you are interested in our private Latchi Cruises you can give us a call. We are happy to take you and your guests out for a wedding, birthday or just to get away from all the hustle and bustle.  We work with many clients that enjoy our private Latchi Cruises and are happy to work with you as well.
At €20 if booked online anyone can enjoy our Latchi Cruises as well.  We like to keep it reasonable as we believe everyone should have a bit of luxury in their life.  Getting out on that beautiful ocean is something people dream of and the dream is about to be your reality.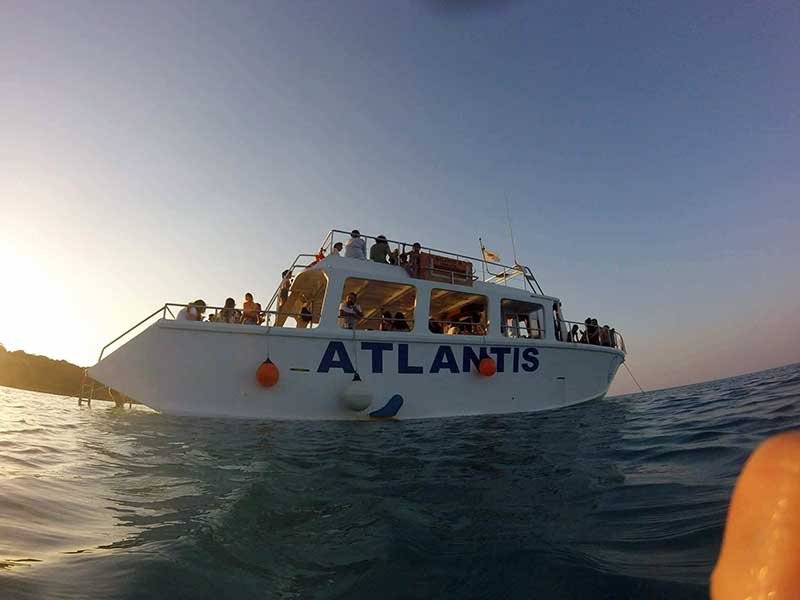 Amazing Sunset
Do you like sunsets?  Take the later-in-the-day cruise and you will get to see the beautiful sunset as well.  This site is simply amazing and we believe if more beautiful here than any other place on Earth.  Our gorgeous clear waters are something that we locals simply love and love to share. Come book with us!
Latchi Cruises start out at the marina of Latchi in Polis Chrysochous.  This cruise is typically going to Blue Lagoon from Latchi Harbour. Our guests will enjoy fine services from our waitstaff as well as bartenders.  We love to offer this service as everyone has a great and relaxing time. The waves and sun are simply gorgeous here any time of year!
Some sights that you will get to see in this course are the Bath of Aphrodite, St. Geoge Island and Plaji Bay to name a few.  There is the Cape Arnaoutis, Fontana Amorosa and Manolis Bay as well. Of course, if you book a private cruise the destination and duration can be discussed.  We work with many groups with private cruises and are happy to discuss this option with you as well.
For an additional fee, we can offer a buffet with various food selections as well on our private cruises.  this is a wonderful way to spend your reception after your wedding and enjoy your guests in a more intimate location.  If you are looking for a great option on your next vacation, check out Latchi Cruises.